Healing the wounded souls of children is a very difficult task. You need a lot of patience and sometimes you have to be willing to try new ways.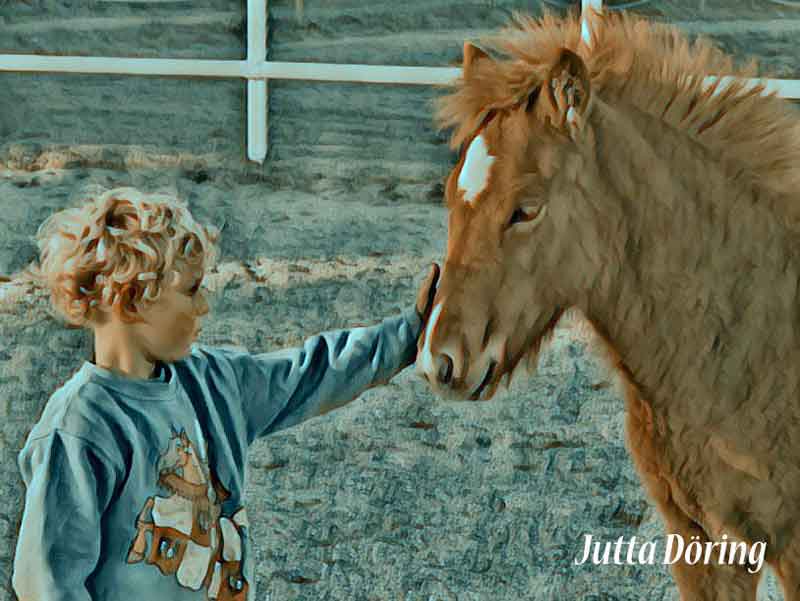 A life without animals? – Unimaginable!
Jutta and Hardy have their origins in agriculture. More precisely, in a farm with a focus on farming, pig and bull fattening. Of course, there were lots of other animals around: dogs, cats, sheep, poultry – and even a horse!
Even though one obviously cannot directly compare the handling of farm animals and pets, the work at a breeding farm has strongly influenced Jutta and Hardy's relationship with their later pets, as they learned about the animals' characteristics on the farm, their needs and possibilities of expression.
They gained valuable experience in the relationship between humans and animals which also became important in the following stages of their lives where animals were always playing a central role.
In the subsequent professional phase of life, the focus shifted to people, or more precisely: to children. Jutta and Hardy had made it their business to give children from the most difficult social circumstances a new home.
One can only imagine the challenge to find access to children who were prenatally damaged and/or had to grow up in a violent, neglected environment.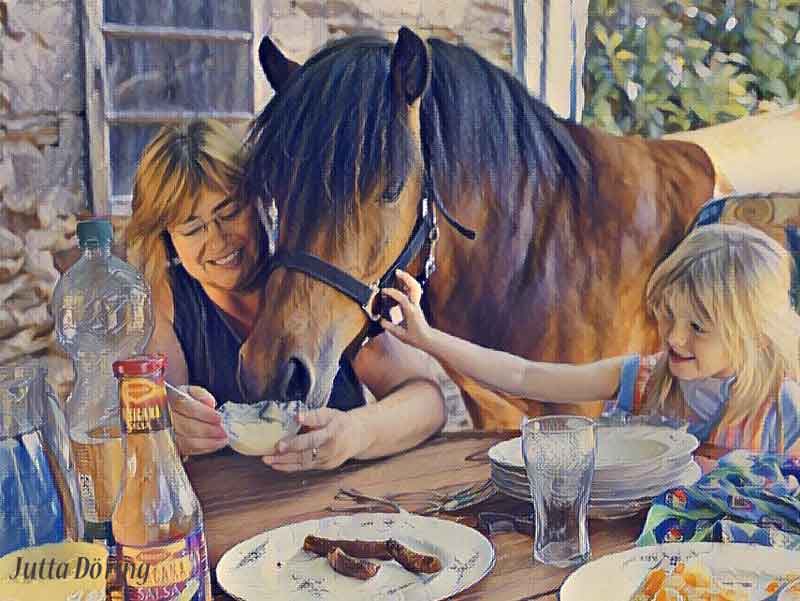 The new foster parents tried everything and, during a holiday on a farm, came across a partner who supported their efforts in a completely unconventional way: a pony!
The eagerness of the children to care for the animals and their happy faces when dealing with them quickly led to the decision: We need our own pony!
The plan was immediately put into action, and since horses are known to be herd animals, a pony seldom comes alone: two cute four-legged friends soon grazed in the house's own meadows, to the delight of the children.
Jutta and Hardy have never regretted this decision, as they soon found out: "One hour with the pony often has a greater effect than dozens of appointments with psychologists, occupational therapists or speech therapists!"
For example, a severely traumatised girl with massive speech disorders who was entrusted to their care, quickly made clearly recognisable progress in speaking.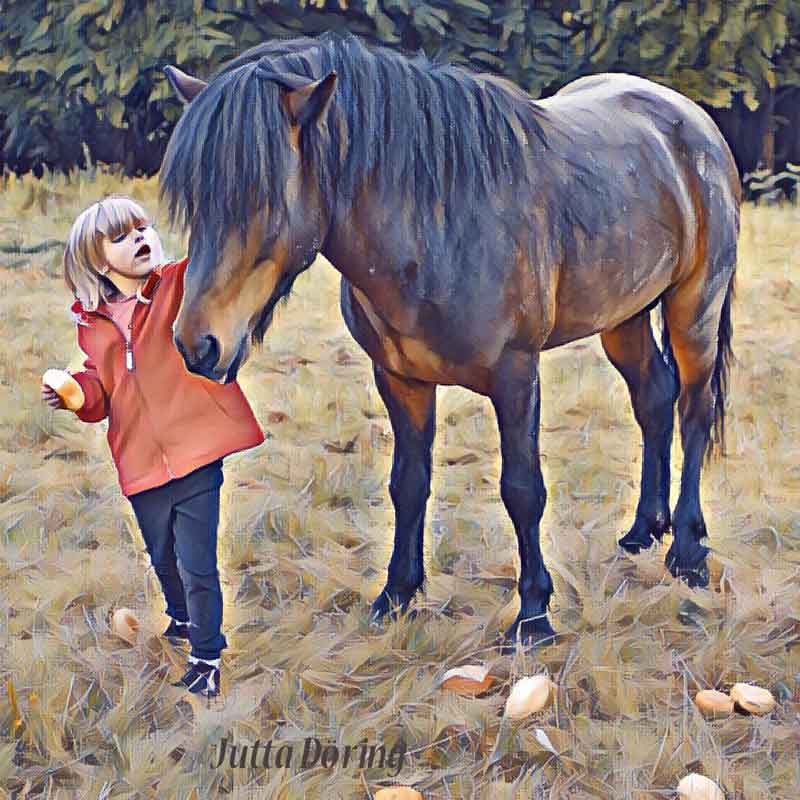 Other children were able to feel themselves when dealing with the ponies, to feel joy and to control aggressions better. Riding, vaulting, measuring their strength at a gallop, cuddling, grooming and feeling warmth and affection – in short: the children blossomed!
Not only for each child who never before experienced what family means, but also for the system "family" did the project "horse" play a central role. That is, because everybody together had to ensure that a beautiful home was created for the new four-legged family members.
Thus, pasture maintenance, building and repairing fences and much more related to horses became the most important leisure activity in which all family members participated.
This welded everyone together and, incidentally, the children learned to take responsibility for a living being. From here, it was not far to the first purebred Icelandic horse, because one of the ponies enchanted everyone with its soft winter coat.
"There's probably an Icelander in there.",
was said by connoisseurs, and so, when searching for support on the pasture, it was searched specifically for a representative of this breed. Only by chance they came across the mare Gola, an Icelandic beauty with an excellent pedigree and promising gaits.
However, these qualities were not considered at first: No one considered good tölt or even pace when it came to this family project.
The fact that the mare was pregnant was only briefly mentioned during the sales talk. However, this "triviality" frightened Jutta very much. She did not want to breed at all!
Additional responsibility for small, vulnerable creatures, whether on two or four legs? No thanks!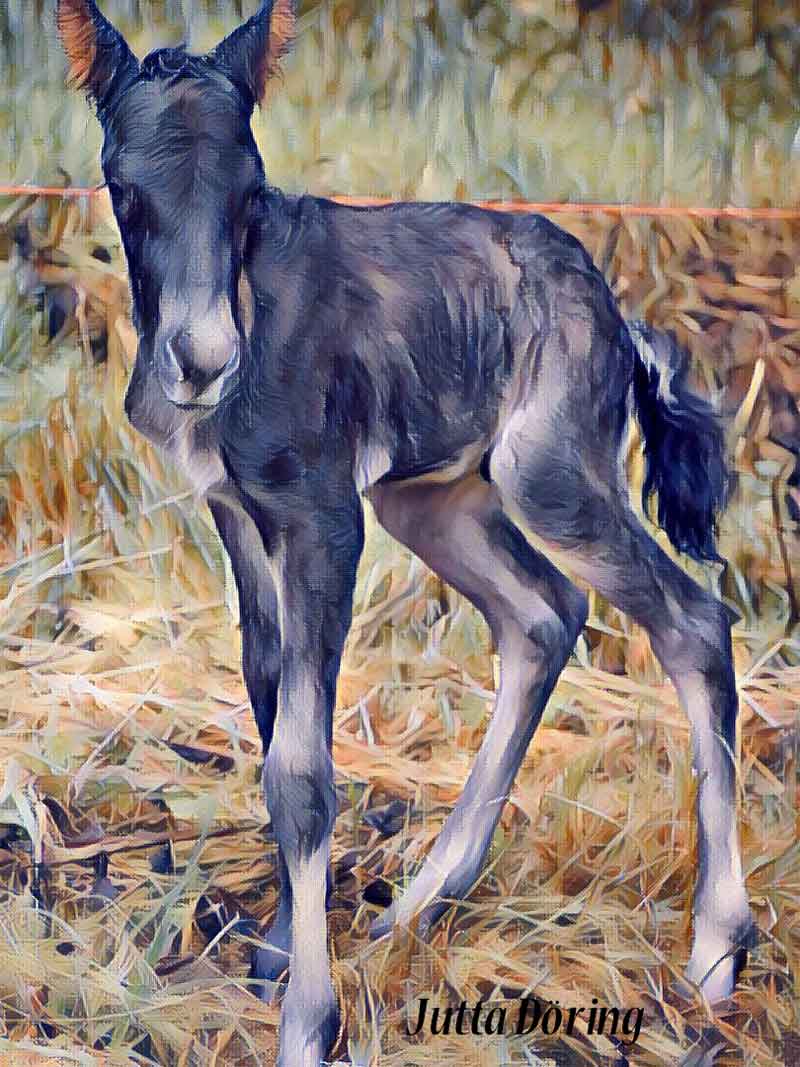 But by then it was too late! One of the children had fallen in love with exactly this horse and Jutta could not bring herself to disappoint the little girl who had just settled in well.
So the mare was bought anyway, but with the option to return the foal to the seller.
The whole family adored the beautiful, lovable Gola who was so uncomplicated in dealing with her little riders.
Everybody had a lot of fun with her – and one day, a little foal stood next to her on the pasture, a beautiful silver-grey stallion – Gandalf was born! The whole family was proud and happy.
The little stallion was healthy and strong and – so lovingly cared for by his mummy and his big fan club on two legs – he felt so comfortable in his home that he jumped happily across the meadows.
Would the family really manage to part with their darling one day?