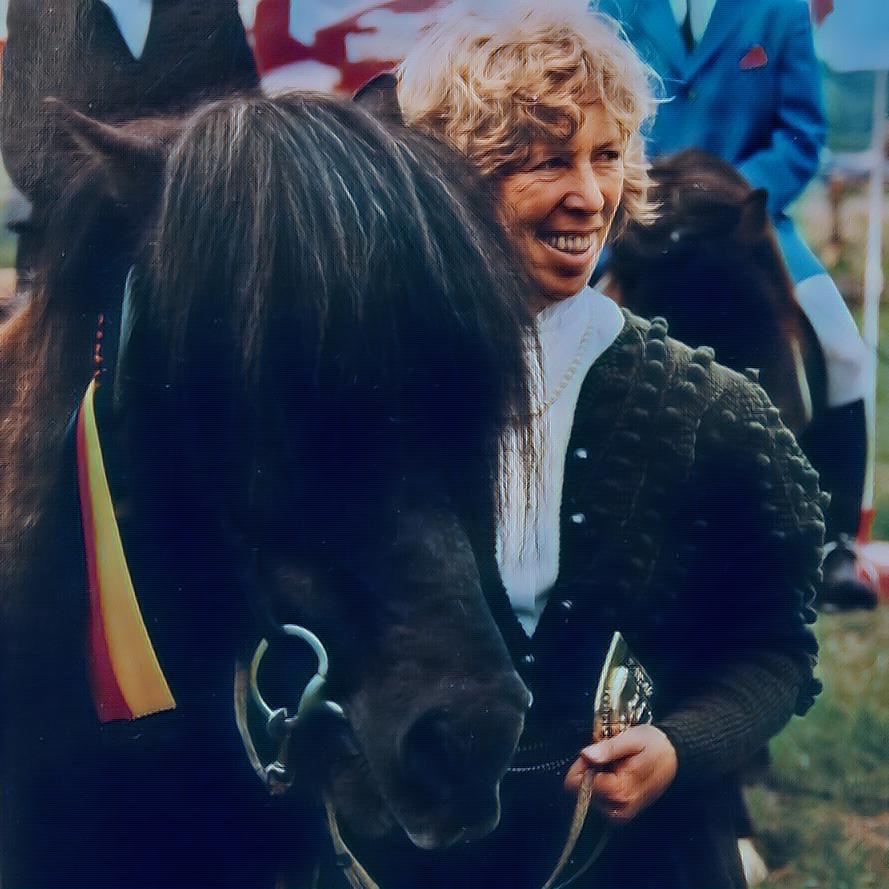 There are many legends about Stígandi's youth in Iceland – all concluding that nobody could believe this horse could have a successful future. To make it short: Nobody wanted him – not even as a present.
But still, it was as Heidi reported and her story matches what Anders Hansen wrote in his novel "Svaðastaðahrossin, uppruni og saga, Band II, S. 32-34".
It is a fact that when the young stallion who was born in 1962 in Kolkuós in the north of Iceland was first presented as a four-year-old at the Landsmót in Hólar in 1966 the judgement was harsh:
"Heavily built five-gaited stallion with a thick mane, hardly trained and uncooperative". He received a score of 8.0 for confirmation and 7.4 for rideability, for a total score of 7.7.
What does a judgement as such mean for the future of a young stallion? Is there a chance to change his first impression?
At first there did not seem to be a second chance for Stígandi. When he returned to the Landsmót in 1966 he did not return as a competitor. Instead, he was announced as the price of a raffle which was invented as a new attraction of the Landsmót in 1966 in order to attract even more visitors to the event.
But the idea turned out to be a flop because nobody came to pick up Stígandi, the main prize of the raffle. Whether this was due to the storm that came up during the raffle or whether it was due to Stígandi remains a secret until today. In the end, his breeder and former owner Sigurmon Hartmansson bought the stallion back, together with his saddle and bridle- both part of the main prize.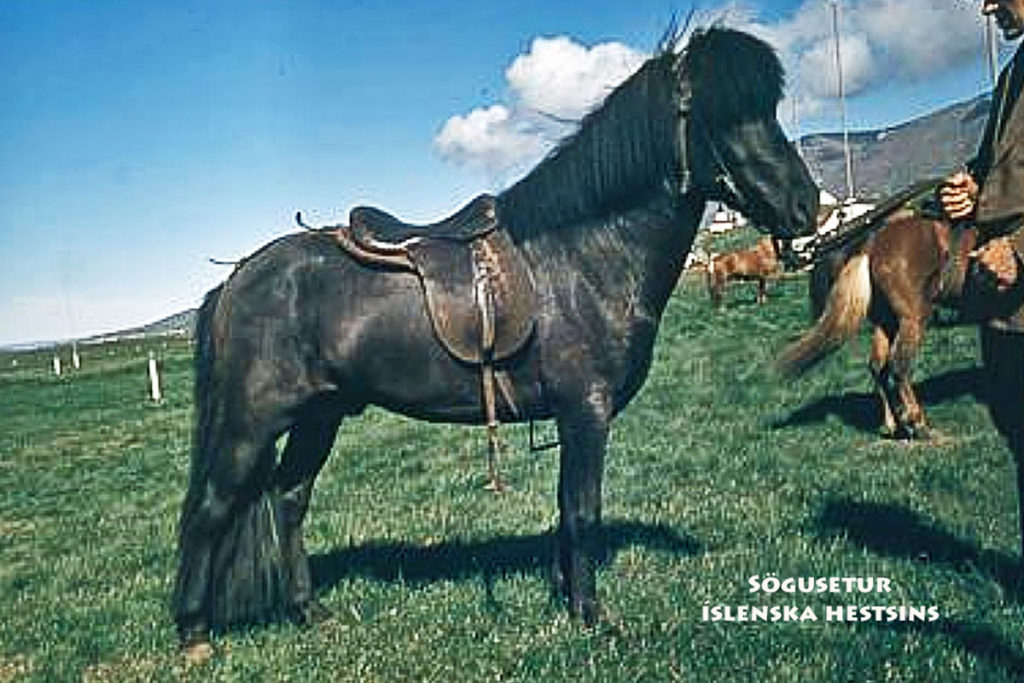 A little later Stígandi changed hands again and he was now owned by a breeding association in the north of Iceland. When the association was dissolved and its seven stallions were divided, again, nobody was interested in Stígandi.
Therefore, Sigurmon took back his stallion a second time. However, as Sigumon already used Stígandi's father Hörður 591 frá Kolkuósi as his foundation stallion, Stígandi was of no use for him. Therefore, he sold Stígandi to Germany in 1974, as it was obvious that the stallion was of no interest in his own country.
Was this lack of interest justified? Admittedly, the judgement at Landsmót were not convincing and he also could not adjust this first impression at the Landsót in Þingvellir in 1970 where he was scored with 7,60 for confirmation and 7.67 for rideability, thus, 7.67 in total. When he was presented in Skagafjörður in 1972 with his offspring (5 mares and 1 stallion) the result was disappointing – he only reached the second place for his offspring.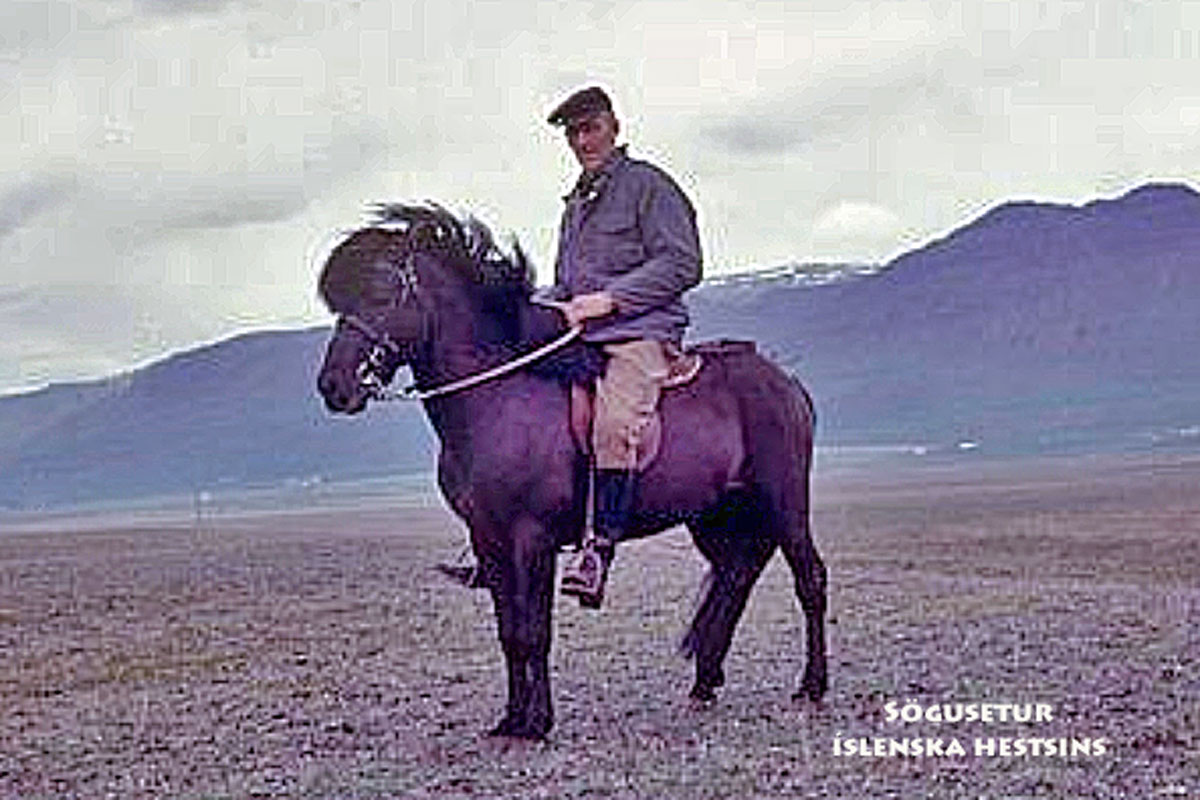 On the mainland he could finally prove his qualities as a stallion. After a while in Germany, he was used for breeding in Switzerland for a couple of years.
But even there, he could not stay forever. He, again, was offered for sale. When Heidi bought him, the news spread like a wildfire and many in the German horse-riding scene were gossiping about it: An outdated stallion of already nineteen years of age! Old stories circulated, new ones were created.
But Heidi wouldn't change her mind and placed 35 mares on Stígandi's meadow. She could not observe one single mating which made her feel quite nervous back then. In the end, Stígandi performed his task perfectly: Each mare gave birth to a healthy foal.
Today, there is no doubt that Stígandi frá Kolkuósi belongs to the top sires and one has to ask oneself why it took so long before somebody recognized this exceptional stallion.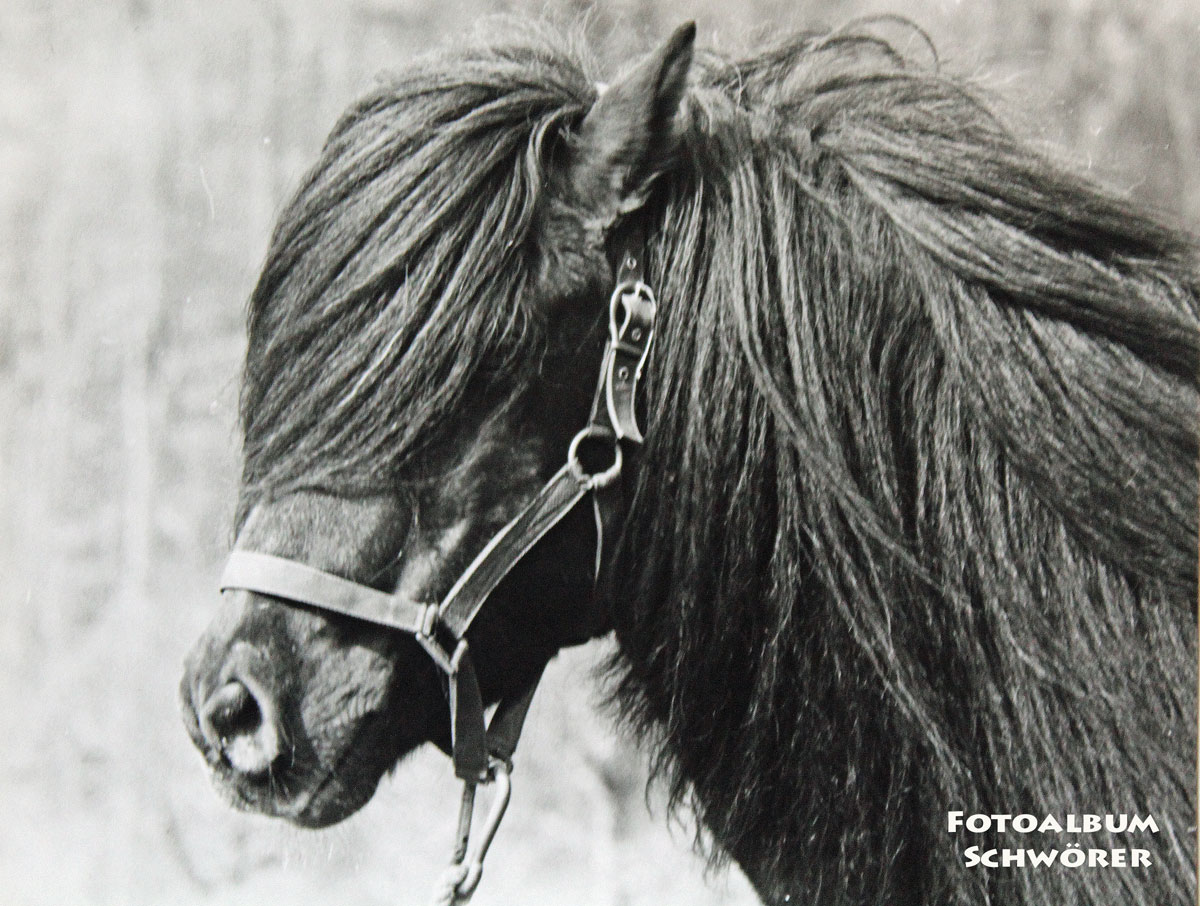 STíGANDI FRÁ KOLKUÓSI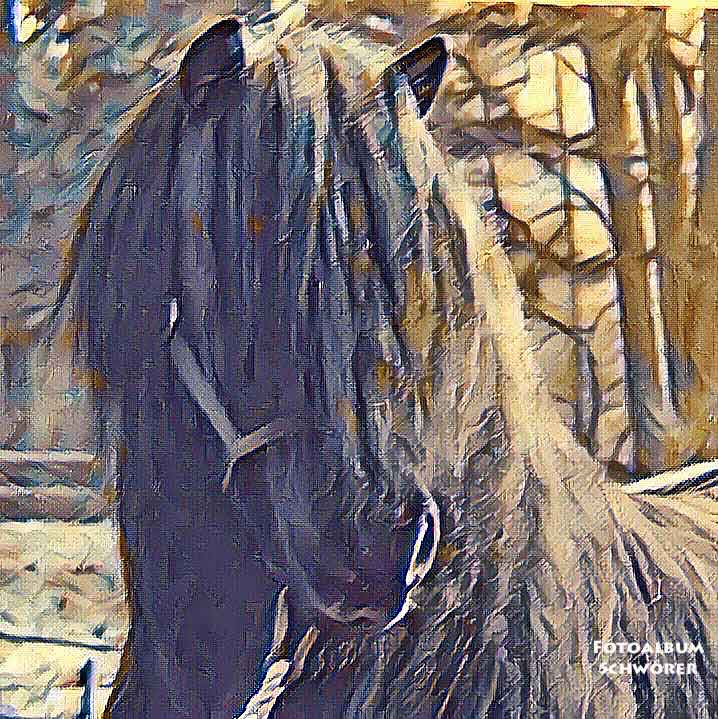 PEDIGREE
Born: Iceland 1962
Died: Germany 1992
Colour: Black without markings
Sire: Hörður 591 frá Kolkuósi
Dame: Jörp frá Kolkuósi
BLUP
Confirmation: 102, Rideability: 98, Total: 99
The BLUP-figure seems to be very low to todays expectance. However, if it is compared to BLUB-figures of stallions in the same generation (1960-1965) the situation is different. From this perspective, Stígandi, together with his half-brother IS1960158380 Þokki frá Viðvík, stands at the forefront with a total BLUB-figure of 99.
FACTS ABOUT THE OFFSPRING
A total of 359 offspring horses are registered in WorldFengur (www.worldfengur.com). Thereof;
258 were born in Iceland, 49 in Switzerland, 50 in Germany and 2 in the Netherlands.
FAMOUS OFFSPRING
Two horses of his offspring are relevant for the breeding scene today.
CH1976101392 Þór vom Sporz
IS1971258589 Þerna frá Kolkuósi
ÞÓR VOM SPORZ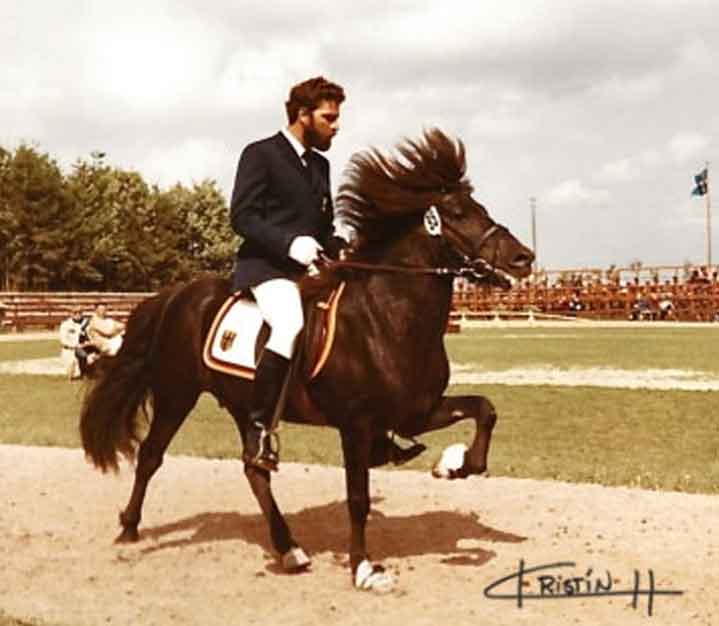 One of the most successful horses out of the offspring of Stígandi is "Þór vom Sporz" whose dame is Perla frá Kolkuósi. The stallion was successful in breeding and in sports. Furthermore, Þór is the father of "Týr vom Rappenhof", one of the most famous German sires of all times. Týr is also known for being a successful sport- and breeding horse.
ÞERNA FRÁ KOLKUÓSI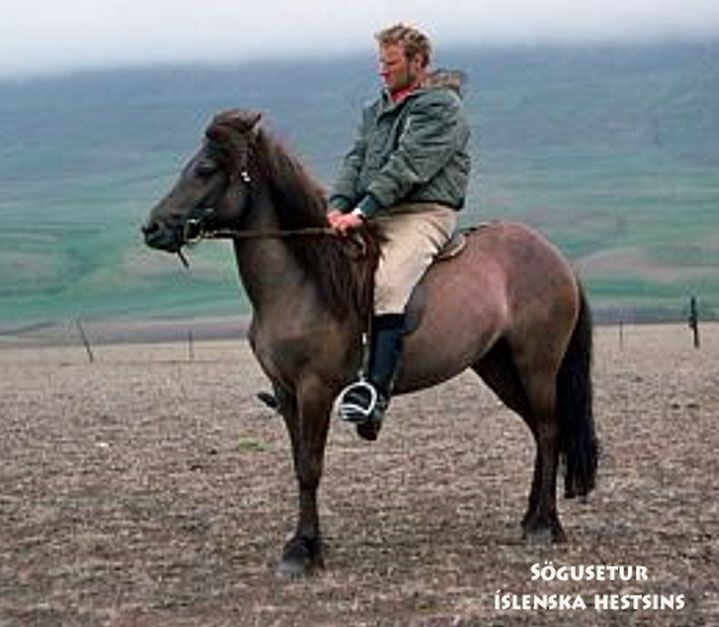 The Stígandi daughter "Þerna frá Kolkuósi" was judged at age 5 and 6. When she was 6 years old she scored 8.00 for confirmation, 8.03 for rideability which led to 8.02 in total. She did not end up in sport competitions but was used as a breeding mare in Hólar. Her first foal was a direct hit. Her daughter Þrá frá Hólum (sire: Þáttur frá Kirkjubæ) is a legend. At age 4 she was judged at the Landsmót in 1982 with the following dream scores: Confirmation: 8.5, rideability: 8.45, total: 8.48. It is a pity that this extraordinary breeding mare was never presented ever again. Nevertheless, she gave birth to 15 foals at Hólar and was honoured with the price for offspring.