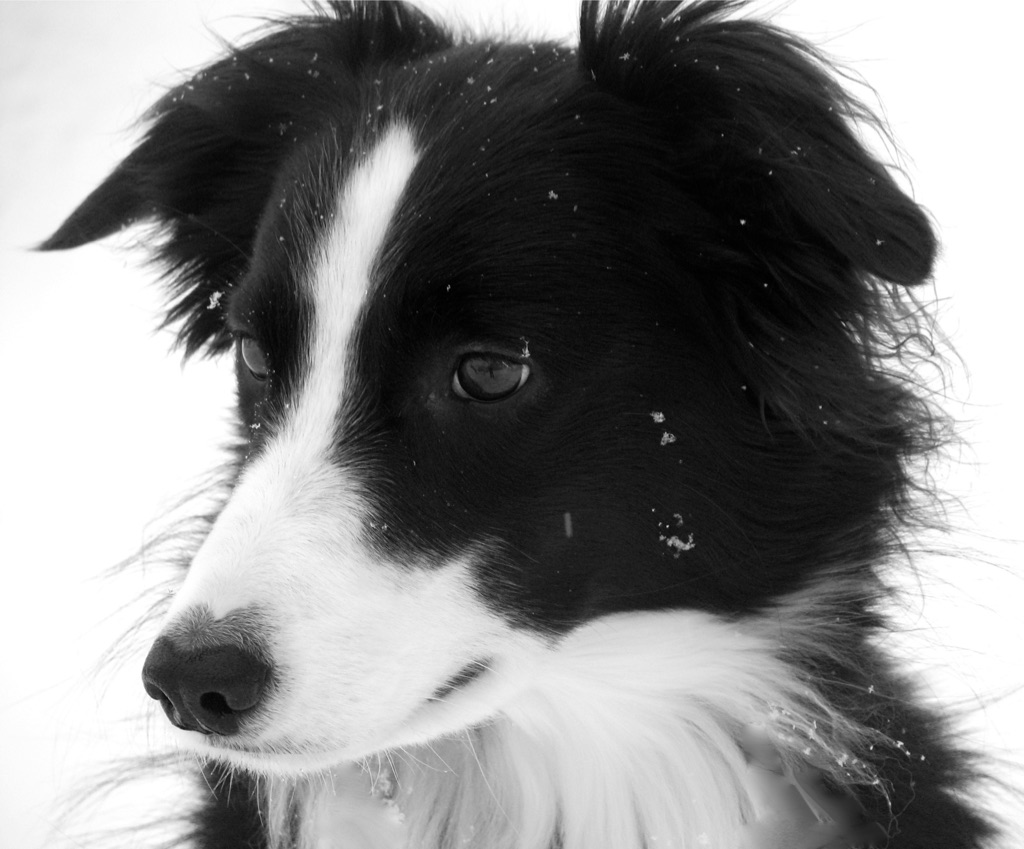 When I first met Smilla, she was an adorable little puppy that I fell in love with immediately. Her owner, a blacksmith, had her tied to his car while he shoed horses. I had just come from a breeding show when the little dog jumped at me with the wagging tail, obviously beside herself with joy that someone came and shortened her boring waiting time.
When her owner finally came back, I immediately attacked him spontaneously with the question whether the puppy was for sale. In no case he answered me decidedly and declared that she should be his new breeding dog, on whom he had great hopes.
I grew up with a Border Collie and was actually always enthusiastic about every specimen of this breed I encountered. But Smilla was without a doubt the sweetest Border Collie I had ever seen and exactly what I had been looking for for a long time.
I could not understand how one could leave such a dog alone for so long – but that didn't help her either, so I left sadly.
But a few months later, I had almost forgotten my encounter with little Smilla, one evening the phone suddenly went off. It was the blacksmith who asked me without hesitation: "Do you still want her?" In the meantime, he had realized that he had no time for her, because besides his strenuous job he also had small children to look after.
I didn't hesitate for a second, and I didn't regret my decision when it quickly became clear that Smilla had obviously never had any upbringing at all – because fate had brought us together, and I was absolutely convinced: We were meant for each other!
Especially with Border Collies, a consistent upbringing from an early age is immensely important, but since nothing had happened in this direction, I took over – to the delight of my children – a completely crazy, spoiled dog puppy with all kinds of naughtiness. It took me a lot of time, energy and, to the horror of my children, sometimes a hard hand to make Smilla a sociable family member.
But the effort should be worth it: After a considerable period of time in which we offered the little dog lady a varied program appropriate to her intelligence and drive and taught her behavior with a lot of patience, she became the best family dog one could wish for.
She accompanied me on rides, patiently pulled my children on their kickboards or romped around with us on the couch. She followed me everywhere and never had to be leashed. She became a full-fledged, beloved family member for all of us.
Many years later, when our puppy has long since become an old lady dog of fourteen years, Smilla accompanies my mother and her dog to the beautiful forests around Kolmården to pick mushrooms, as she does every day. All three know the area like the back of their hands and know where to find mushrooms. The dogs love these daily trips, where they can let off steam together and romp around to their heart's content.
But on this day Smilla disappears!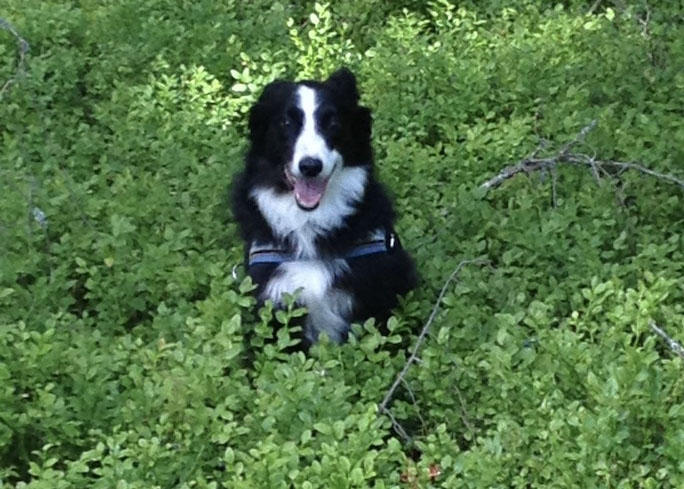 My mother calls for her and desperately looks for her before she calls me. What I hear, I don't want to believe, because I know: Smilla would never just run away. So something must have happened to her, I know that immediately!
I react as if I were in a fever, immediately sign off from my job and call my son who, without a moment's hesitation, sets off with his girlfriend to help me look for her.
Smilla is gone, really gone, it keeps pounding in my head. She probably needs help. We have to find her before it is too late!
We start searching in the area where my mother always picks mushrooms. It is a large forest area with dense spruces, which makes the search enormously difficult.
Bad images bore mercilessly and uncontrolled into my brain and I can't get rid of them: I see Smilla helpless and badly injured in the dark forest and, inevitably, tears shoot into my eyes.
At the same time I try desperately to think clearly, because only then there will be a chance to find her.
It is me who knows her best, so maybe I can put myself in her shoes and explore her ways. I also cling to the idea that there is some kind of connection between the two of us that leads me to her.
But all searching and hoping remains in vain and we have to rethink. An appeal on Facebook should help us to mobilize more helpers.
In fact, many people who are willing to help are contacting us. Some of them know me as their veterinarian, but also many strangers are joining-sympathetic people who can imagine what it means to lose a dog, people who just want to help to find a missing animal.
I am very grateful when a helper with her Great Dane named Mammoth takes the lead. She has been with me for years with her dogs in veterinary treatment, but of course I had no idea about Mammut's qualities as a search dog until now.
For a short time hope germinates in me, but the longer we comb the forest, I have to admit that the chance to find Smilla alive is getting smaller and smaller, and I have no idea where else to look for her.
Mammoth's owner, however, continues to bravely assume her leading role when she recognizes my despondency. She systematically divides the forest into search areas and distributes the helpers accordingly – but unfortunately without success.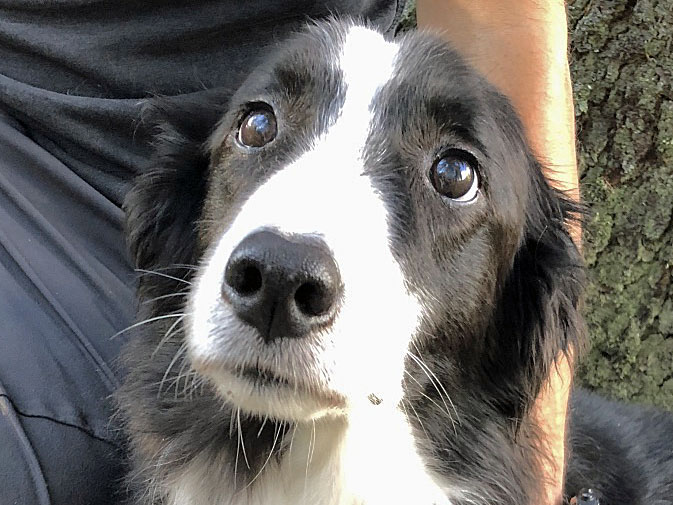 Among all the volunteers I notice a young man with his equally young Border Collie. This beautiful dog reminds me of Smilla in her youth, when she seemed to have unlimited reserves of strength and never gave up. I have to banish this thought from my head immediately in order not to cry out loud.
When evening falls, the young man is the only one who stays. In the spreading darkness he continues his search with a spotlight along the adjacent highway.
I myself have given up and take everything only through a thick veil of tears. Together with my family we finally make our way home to warm up and get some sleep, because in the darkness that now prevails any search is futile.
We leave a blanket and some food where mom usually parks the car, in case Smilla should find her way back there, but deep inside I have no hope that this could happen. The only thing that still carries me is the determination of the helpers not to give up.
The next morning everyone wants to continue the search.
I am deeply touched by the helpfulness of the sometimes totally unknown people and cannot express my gratitude in words.
At dawn everyone is indeed back and we continue our search at the parking lot.
The blanket and the food remained untouched, as I had feared.
During the night an idea had come to me and I swore to myself that this would be the last resort before I had to admit to myself that any further action would be an unreasonable waste of time for all the selfless helpers.
But I still wanted to make this last attempt, because I would never forgive myself if we had been near Smilla and had not found her!
I ask my faithful helpers to form a human chain through the dense spruce forest so that we really search every spot and don't accidentally miss even the smallest corner.
Everyone immediately agrees and we systematically walk all the way to a swampy area that is difficult to access – and suddenly I see her! She crouches in the bushes, but does not look in my direction. Immediately tears of joy shoot into my eyes, and when she turns around, I feel how happy she is, too.
I fly towards her and take her in my arms, dazed by the past tension and stunned by happiness.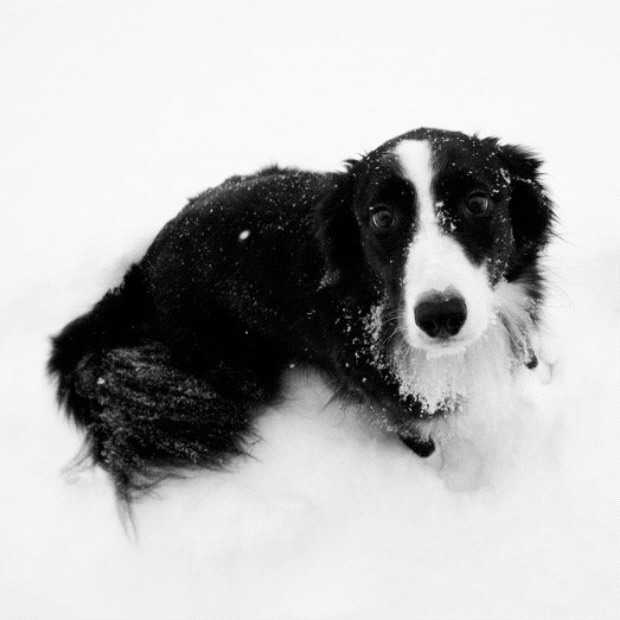 Slowly, the others approach, and they too are overwhelmed by this moment. The joy about the success of the common search action is written in the face of each individual.
All of them had also searched for a lost dog in the past, but in most cases the search had been unsuccessful. On the way home in the car, the young man mumbles to himself again and again in disbelief: "We found her, we actually found her alive!
As we get out of the car, I immediately notice that Smilla is very shaky and unsteady on her feet. She can hardly stand up and her eye movements are restless, the pupils move back and forth in rapid sideways movements.
Smilla obviously suffers from the so-called vestibular syndrome, which manifests itself, among other things, in massive disturbances of balance and loss of orientation.
This disorder occurs frequently and without warning in old dogs and in Smilla obviously so severe that she did not get up immediately after her fall. When she finally succeeded, the lack of orientation led her further and further away from the familiar paths until she finally stranded in the deep thicket of the forest and could not go any further. Poor little dog. All alone, cold, abandoned and wet!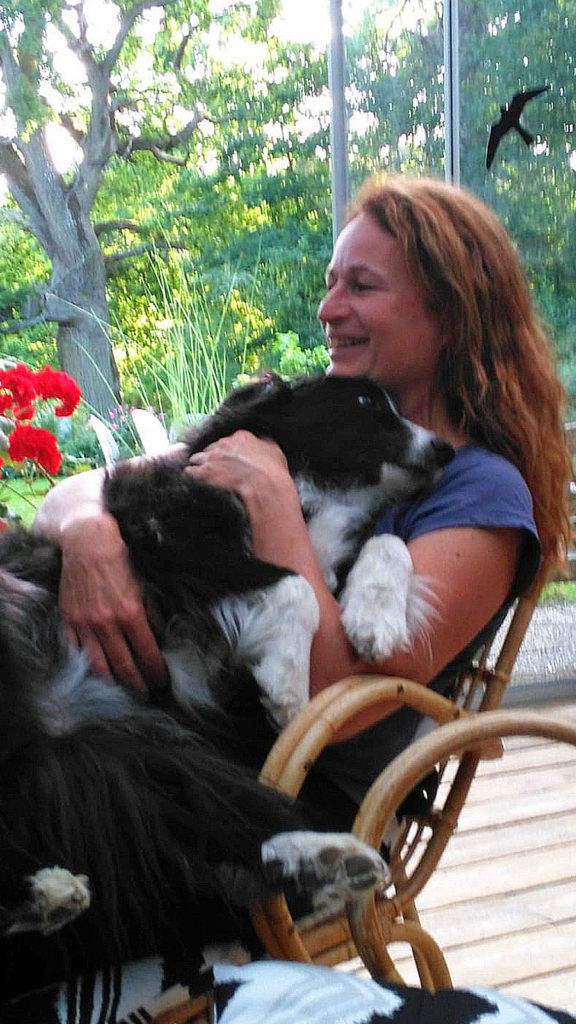 I am glad to have a reliable diagnosis and to be able to help her get well again.
After a few weeks, Smilla is almost back to her old self, still a little weak in her hind legs, but mentally unchanged. As if nothing had happened, she runs ahead courageously, a safe leader who knows her way and whom we can trustingly follow.
The only difference from before is that she turns and looks back more often, as if she wants to make sure that we are near her and she is not in danger of losing us.
Rebecka Frey
Translated from Swedish